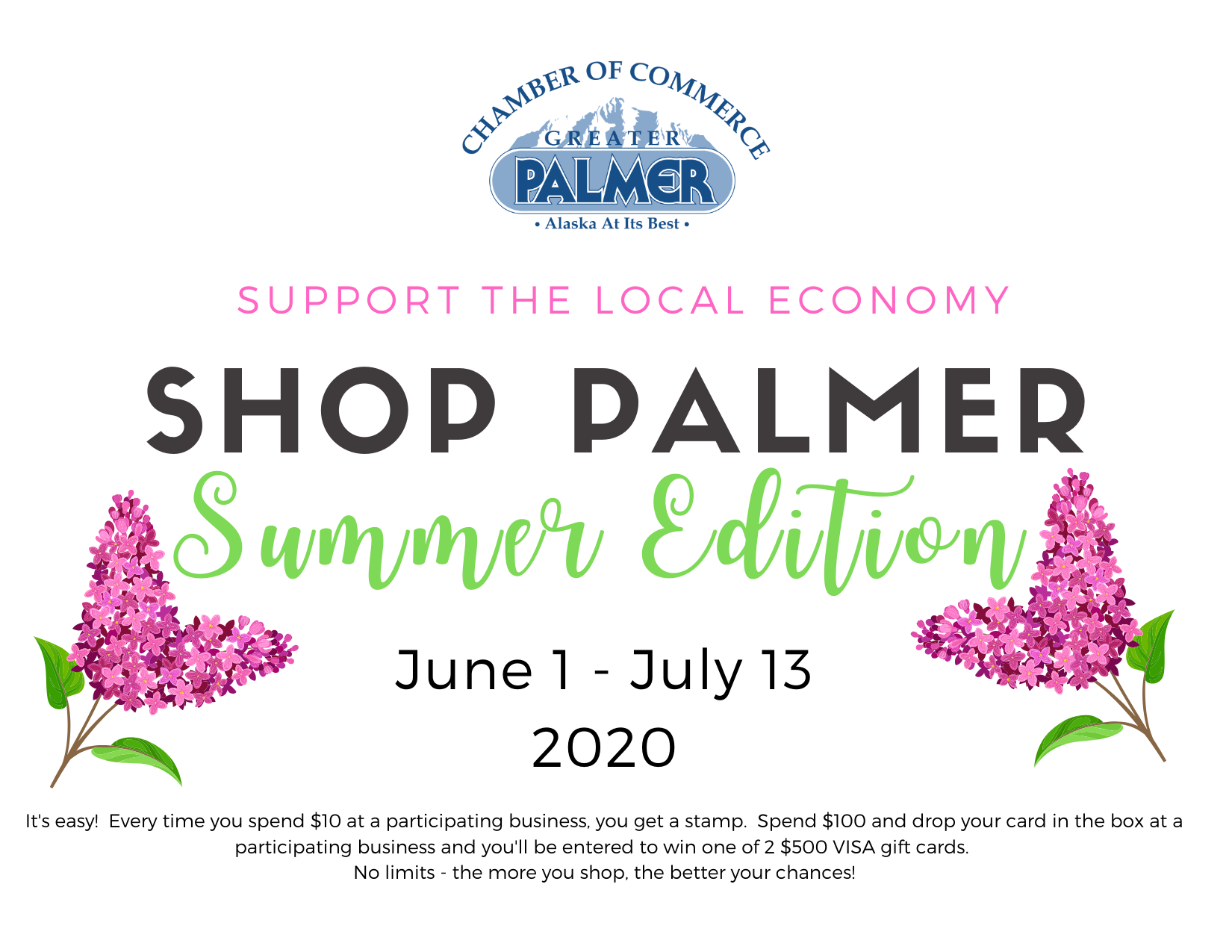 Bonus Round!
We are pleased to announce we have an additional grand prize of a $100 gift card to Turkey Red! This generously donated prize will be awarded at the end of the Shop Palmer event, and is brought to you by the wonderful folks at the Mat-Su CHARR! Check them out online and thank them for all they do to support local.
Shop Palmer, Summer Edition!
Shop Palmer, Summer Edition was a raving success! Our little town continues to amaze. In our 6 week Shop Palmer Summer Edition program, we had over 3441 cards turned in for a total of $344,100! We are filled with gratitude for everyone that has been coming to Palmer to shop the last couple of months (and always)! We hope to have another program coming soon. Thank you to our participating businesses and all of you that supported Palmer!
This year, we are celebrating summer and supporting local, especially in a time when keeping your spending local can make even more of a different in your local economy. Shop Palmer, Summer Edition includes local restaurants and breweries, as well as Palmer's wonderful retail businesses. With 32 businesses participating, you have even more opportunities to win big! This time around, we will hold two drawings for $500 gift cards, so don't miss out!
Shop Palmer, Summer Edition runs from June 1st, 2020 to July 13th, 2020. Weekly drawings will be held for gift cards and prizes donated by participating businesses, and on July 15th, we will have all entries tallied and pick our two winners, and it could be you!
Check out our list of participating businesses, where you can pick up and drop off any of your entry cards:
*An asterisk indicates that the promotion is only available at the Palmer location of those establishments.